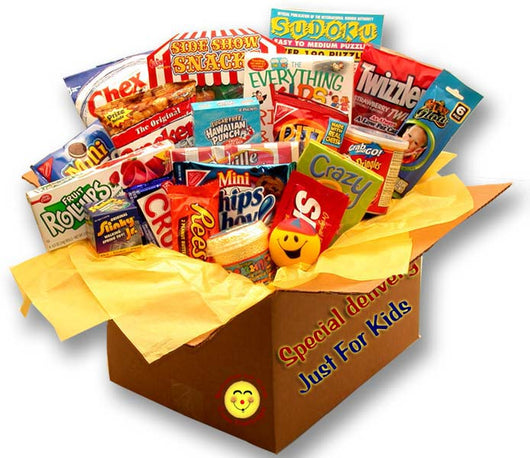 Kids Blast Deluxe Activity Care Package
Regular price $99.18 Sale
---
FREE Shipping Worldwide over $99
FREE Shipping Worldwide over $99
poup with stuff in it
close
---
Looking for a sure fire way to brighten their day? Our Kids Blast Deluxe Activity Care Package is just what you are looking for. Filled to the top with sure fire fun filled favorites this gift box may explode with fun before it arrives. (Not intended for children under age of 6) The side of this unique care package is stamped with our trademark seal "Because we care! care package"!
The Kids Blast Deluxe Activity Care Package includes:
Chex snacks mix
Side Show food shaped gummy candies
Sudoku puzzle book
Everything Kids Riddle and Puzzle activity book
Twizzlers red vines licorice
Glow Sticks
Pringles
Ritz Bits cheese-filled crackers
Cracker Jacks
Hawaiian Fruit Punch drink mixes
Mini Oreo cookies
Fruit roll-ups
The original Mini slinky
Nestle crunch chocolate bar
Reese's Peanut Butter Cups
Mini Chips A Hoy cookies
Microwave popcorn, Skittles
Kids card game (like crazy 8's, go fish or hearts)
Squishy Smiley face stress ball
Squishy putty.
Seasonal: No
Perishable: No
Delivery: 2-5 days within the USA