sale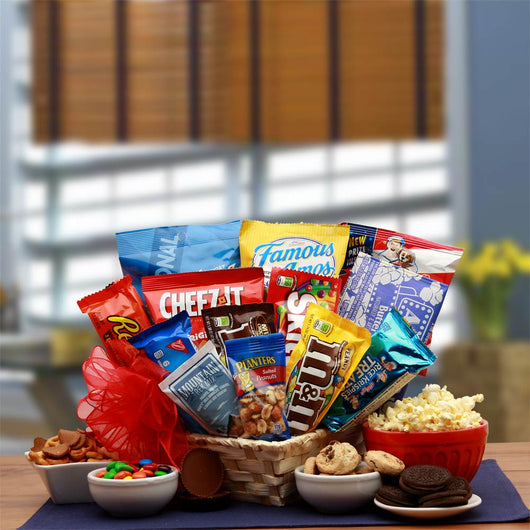 Favorite Snacks Gift Basket
Regular price $61.59 $41.58 Sale
---
FREE Shipping Worldwide over $99
FREE Shipping Worldwide over $99
poup with stuff in it
close
---
Send a snack lover this wonderful basket full of sweet and savory treats! You can't go wrong with snack mix and candy and much more! This gift basket is good for all ages and easy to share.
Everyone will love the classic favorite snacks in the snack gift basket. Each and every gift basket we make is lovingly handcrafted with attention to detail by our gift basket artisans, wrapped by hand in cellophane, and finished with a handmade bow. We include your personal message with every gift to be sure your recipient knows just how thoughtful you were (Write this in the notes at the checkout).
What's in the Basket:
Chex Mix, trail mix, peanut M & M's, Plain M and M's, Reese's peanut butter cups, Oreo cookies, movie butter microwave popcorn, Cheeze-Its, Planters peanuts, Skittles originals, Cracker Jacks, Famous Amos chocolate chip cookies, Rice Krispies treat. Completed gift measures 8" wide by 8" long and 12" tall and weighs 3 pounds. This gift comes wrapped in cellophane and topped with a handmade bow.
Seasonal: No
Perishable: No
Delivery: 2-5 days within the USA